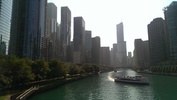 Chicago city, arrived on the 9th June 2015 and a quick tour of the local area as we have not picked up the bikes yet.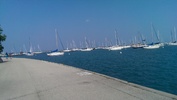 Lake Michigan, something like 263 mile by 118 miles.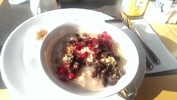 First breakfast in the US, diner next to the hotel.
For me it was oatmeal with fruit, was quite nice, slightly different from out usual porridge.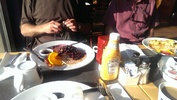 Julian and Barry had pancakes
We found out later how filling the pancakes can be.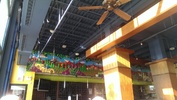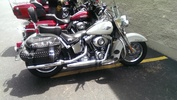 After made our way to pick up the bikes, it was a really eventful taxi journey, a mere 18 miles from the hotel, Eagle rider in Juliet Road.
The taxi driver that sat out side the hotel, said he knew where to go, but was either very good at pretending or he didn't actually have a clue in the end, after taking the wrong exit off the freeway, we went through the same tolls 3 times, going back and fourth, eventually Julian insisted he stopped the taxi so we can get the sat nav out of the boot of the taxi.
After getting the sat nav out, worked out where we were, only 12 miles away from Eagle Rider, he seemed pleased, but that was after 45 minutes driving we were only we were 6 miles closer than when we first started, we had gone past it by miles.
His excuse was "Usually people know where they want to go, and he just takes them to the rough area" fine if you are a local eh ?