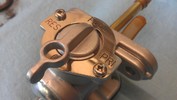 Stainless steel fuel tap plates, this one is usually found on the A & B models, from what I can gather half way through the A model they changed to this style, but does seem to vary as some B have the other type and some earlier have this type.
I think this one is also used on the early GS's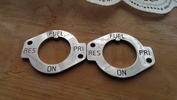 The engraved text has been filled with paint, two main options are all black text, or the more popular "RES" is in red.
Have also tried the same blue as my petrol tank.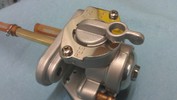 This version of the fuel tap plate that is usually found on LMA models.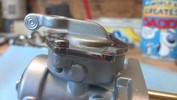 All edges are mirror polished.

This is the original one that is stamped out, text is also stamped, it is out of position, often uneven and even when polished and plated doesn't look too nice.