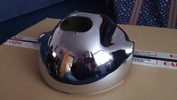 Bought a NOS ( New Old Stock )head light shell and unfortunately the chrome wasn't up to much, so got it stripped. Polished myself and then got re-chromed at Calmac Metal Finishers in Gosport.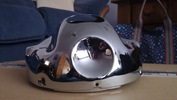 Used a worn out polishing wheel to polish the round indent as it fitted inside OK without wearing the edges of the dip away.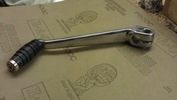 The gear changer again was re-chromed at Calmac. The back is usually left as a cast finished but with a dremel sanded the back smooth and polished before chroming.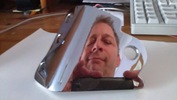 Side stand, hole drilled to 12.5mm for a bronze bush.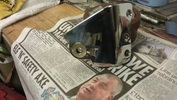 Side stand, bush presses in, the 1mm thick flange on the bush stops the chrome being worn away when the side stand is used.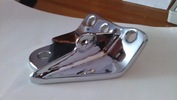 Polished the under side with a dremel and also a 4" wheel on the polisher. Chrome came out surprisingly good as usually yellow an a bit rough.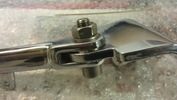 There is also a thin bronze washer on the back of the mounting plate.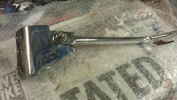 All assembled.