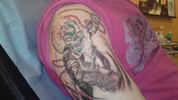 They have hand drawn the outline with felt tip type pens, this took about an hour.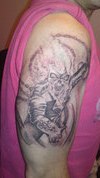 The outline and some shading has been done, couple of hours work.

This is the second visit, they have gone over the shading some more and added a bit of colour, just need one more visit before it is complete.

Straight from the tattooist after the final session.


This is after about 7 hours of work in total.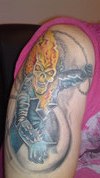 Got the flames topped up as they lost some of the brightness over a few months. I don't seem to keep the yellows too well but hopefully okay this time.